Share Favorites
View Favorites
Who to Treat
For prostate cancer has been a huge challenge. These tests help us determine who is at low risk for their disease to ever cause a problem and who will benefit from treatment.
Oncotype Dx
The Oncotype DX Gemonic Prostate Score harnesses the power of genomics to provide a more precise and accurate assessment of risk based on individual tumor biology.

Downloads
Prolaris
Prolaris is a measure of how fast a prostate cancer tumor is growing. Biopsy tissue samples can be used to determine a patient's personal Prolaris Score. Studies have shown that Prolaris provides an accurate assessment of cancer aggressiveness.



Downloads
P10
"Most studies have found that PTEN loss is a powerful predictor of which prostate tumors are likely to recur or metastasize," says urologic pathologist Tamara Lotan, M.D.
Downloads
ProMark
On September 10, 2013, Metamark announced positive results from a large clinical validation study of ProMarkTM, its biopsy-based prostate cancer prognostic test. The study, conducted in collaboration with Fred Saad, MD, FRCS, Professor and Chief, Division of Urology, Director of Urologic Oncology, University of Montreal Hospital Center, met its primary endpoint demonstrating that ProMarkTM, evaluated in standard formalin-fixed, paraffin-embedded prostate tissue, can differentiate indolent from aggressive disease.

Downloads
AR-V7
Finding the most effective treatment for your patients with metastatic castration-resistant prostate cancer (mCRPC) can be a challenge. The Oncotype DX AR-V7 Nucleus Detect test helps you quickly and confidently determine the next step.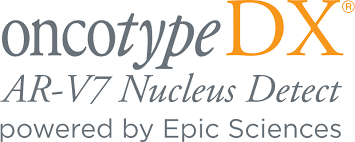 Downloads